FTR Systems, a technology company specializing in electric-powered vehicles, has announced the start of a Kickstarter campaign for its newest product, the Mogobike electric scooter.
The Mogobike is a lithium powered electric scooter built for commuters. According to Charlie Palmer, FTR's Director of Operations, "Commuters, boaters, pilots and RVers see an application for the product."
CNET recently profiled the scooter at the 2015 CES show in Las Vegas.
FTR spent three years developing the electric scooter. The company plans final assembly and quality testing to take place in Las Vegas, with the company expecting the first production run in June 2015. Offered as a "last mile" solution, the Mogobike provides a range of 20 miles and speeds of up to 20 mph.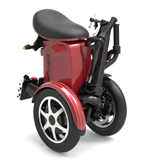 Two electric motors drive the scooter providing added torque for acceleration and hill climbing. "Hill climbing is always a problem for electric-driven machines," Palmer noted. "Two motors give a push and a pull and help increase torque without overheating the motors."
Kickstarter allows developers to showcase new products for funding to meet the costs of making the products. FTR hopes to drawn attention from interested investors through their 40-day campaign to meet sourcing and production goals for the Mogobike.
Category: Capital Markets, Consumer